Righteous Spring (sound.motion.visual)
Righteous Spring.01
Saturday 3 June 8:00pm*
Three Rivers Arts Festival
Venue TBA

Righteous Spring.02
Sunday 4 June 8:00pm*
Three Rivers Arts Festival
Venue TBA

*No entry permitted after 8:00pm
The Players:
Kyle Abraham (Pittsburgh / Manhattan) is completing his Masters in choreography / dance at New York University. His current work explores themes of black male sexuality. Kyle has performed as a member of the Bill T. Jones / Arnie Zane Dance Company, recently as a guest artist with the Anna Myers Dance Company, and has opened for recording artist Mary J. Blige.

Ian Williams (Johnstown / Brooklyn) is currently completing a European tour with Battles - his current project - for their debut release EP C / B EP on Warp Records (UK). Ian forges avant-garde guitar rock. Recent projects include Don Caballero (Touch and Go), and Storm and Stress (Touch and Go).

Terry Young (Pittsburgh) is a printmaker, currently exhibiting in both America and the Europe. His text-based works explore themes of politics and history. His practice extends into site-specific print installations, creative writing, interdisciplinary collaboration, media, and time-based work. His email actions and website boast a recent cult following. Terry is a founding member of The Appalachian School.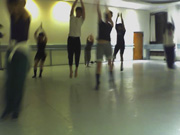 (The Righteous Spring) TerryYoung.org January Rehersal, New York University 2006.
A re-examination of the Robert Rauschenberg, John Cage, and Merce Cunningham (visual, sound, motion) collaborations from Black Mountain College: how would this work exist now?

Given these factors: the passage of time; the 're-genrefication' of visual art, dance and performance; the institutionalization of the 'experimental' in music - can a new, contemporary form emerge from the convergence of three diverse creative disciplines?

How does an American art historical precedence reflect in contemporary American art production? The Righteous Spring happening highlights the impact queer artists (like Rauschenber and Cunningham) have had on the canon of 20th century American Art. How do revisionist histories and contemporary politics impact the state of contemporary art?

Righteous Spring will debut in June as part of a site-specific project of The Appalachian School for the Three Rivers Arts Festival. The Appalachian School project begins in March 2006, in Pittsburgh.

The real-time collaboration of Righteous Spring permits irregularity and experimentation with each happening.

Accompanying Righteous Spring is a limited edition vinyl LP catalogue. Images and texts from the happening comprise a gatefold sleeve. Pressed by Archer Pressing (Detroit) - and featuring a letterpress sleeve by Third Termite Press (Pittsburgh) - the LP catalogue offers an alternative way to document a contemporary happening while exisiting as a piece in itself: a limited edition print.

Contributions from invited Appalachian School artists will be included as part of this audio catalogue.