Gallery is an art studio, exhibition and performance space at 3700 in Lawrenceville, Pittsburgh. It is owned and operated by Thommy Conroy.

Happening.01 (Art/Noise Improv Show)
Friday 2 June
9:00pm until late
curated by Edgar Um
HAIR POLICE
Mike Connelley (of Wolf Eyes), Robert Beatty and Trevor Tremaine
(Gods of Tundra / Troubleman Unlimited)
HEATHEN SHAME
heat Wayne Rogers (Crystalized Movements, Vermonster), Greg Kelley, Kate VIllage
(Twisted Village, Boston)
GRAVEYARDS
feat. John Olsen (Wolf Eyes and Dead Machine)
(American Tapes)
FUCK TELECORPS
feat. the return of Raq V.B., Josh Bonnett, Matt Wellins, Steve Boyle, E. Um Bucholtz
(Pittsburgh)

$9 All Ages
3700 Penn Ave.
Lawrenceville
Pittsburgh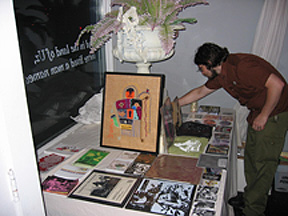 Clockwise from top left: Jazz Improv; Michael Johnsen; merch; Gallery; Crowd.

Links:
http://www.freedom-from.com/hairpolice
http://www.twistedvillage.com
http://geocities.com/americantapes